Cambodia
Infamous for the four-year reign of terror by the Communist Khmer Rouge from 1975-1979, during which 2 million of Cambodia's population of 6 million were killed, the Kingdom of Cambodia has since risen from the ashes to boast one of the fastest growing economies in the world. Christ's church has also risen from the ashes. Nearly all the believers were killed during the Khmer Rouge period, but the church in Cambodia has since exploded to over 200,000, according to official estimates. Although Buddhism is the national religion, and temples and shrines abound, no country in mainland SE Asia has more religious freedom than Cambodia.
In 1994 J.D. Crowley received one of the first permissions given to a foreigner for entering the country with the express purpose of evangelism. The opportunities for evangelism and church planting are wide open. The need for missionaries committed to indigenous church-planting throughout Cambodia is staggering. More linguists are also needed to work with Scripture translations among the indigenous minorities. EMU has five families working in Cambodia, four among the minorities in the northeast province of Ratanakiri, and one in church planting in Kampong Cham, about 2.5 hours northeast of Phnom Penh.
Scroll down to see our missionaries in Cambodia.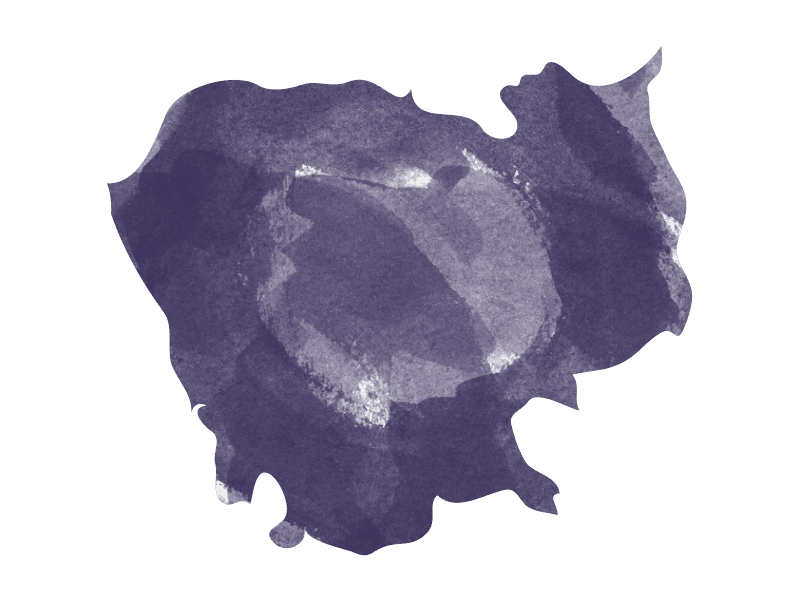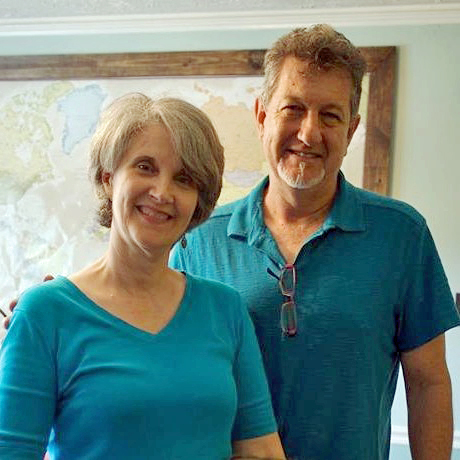 J.D. and Kim Crowley
J.D. was raised in Japan and Hawaii, while Kim grew up in South Carolina. Both J.D. and Kim trusted Christ as Savior at an early age. After meeting in college, they were married in 1980 and moved to Hawaii, where J.D. pastored Kea'au Bible Church for twelve years. But their hearts were always drawn toward work among the unreached. In 1994 Hampton Park Baptist Church commissioned J.D. and Kim as missionaries to pursue this long-held dream. Following a year of training with Ethnos360 (formerly New Tribes Missions), they contacted EMU to pursue the prospect of missionary service under this organization. Although the mission had expanded into Chile, it had no tribal missions experience and no missionaries in Asia. After months of prayer and a meeting with the Board of Directors, the Crowleys were accepted as missionaries with EMU. Among the Crowleys' early goals in Cambodia was reducing the Tampuan language (a minority language) to writing in preparation for a Bible translation. They accomplished this task – slowed by many linguistic and bureaucratic hurdles – during their first two terms on the field. J.D. and Kim have also witnessed God's establishment of over 50 churches in 5 different language groups in NE Cambodia, and they have helped disciple the church leaders and their wives. In 1999, J.D. began the Ratanakiri Bible School, an indigenous training program for tribal and Khmer church leaders. This school is now directed largely by the nationals. In May 2017, J.D. began the Pastors' School, which is a 10-year, 20 class, 30 hours per class course of study (equivalent to a 2-year Bible college) which meets each May & November, Lord willing.
The Crowleys have also worked to produce doctrinally-sound Christian literature in the Cambodian and tribal languages – geared to the culture of SE Asia. J.D. is the author of The Kingdom of God: Studies in Matthew in Khmer and English; Commentary on Romans for Cambodia and Asia (English language edition available at Amazon.com); The Tampuan/Khmer/English Dictionary; and co-authored Gospel Meditations for Missions and Conscience (both available on Amazon.com).
J.D. and Kim have five adult children and a sixth, Nathaniel, who is attending college.
Jeremy & Bonnie Ruth Farmer
Jeremy and Bonnie Ruth were both born into Christian families and grew up in North and South Carolina, respectively. Through a combination of godly influences at home, church, summer camp, and college (Bob Jones University), the Lord compelled Jeremy to pursue long-term work among peoples unreached with the gospel. In the summer of 2002, Jeremy accompanied Josh Jensen and Brian Kane on a trip to Ban Lung, Cambodia, intending to spend two weeks "helping" missionaries JD and Kim Crowley. Instead, these young men received far more "help" from JD than they could have ever given, as JD graciously poured himself out, transparently sharing his philosophy of ministry, missions, and life. Twelve years later, Jeremy, Josh, and Brian, with their growing families, are working alongside the Crowleys in Northeast Cambodia.
As a child, Bonnie Ruth felt keenly her obligation to take the gospel to unreached places, a desire that was fostered throughout her youth by her church and by exposure to missionary friends. She studied music and theology at BJU in order to prepare for such service. She and Jeremy met in 2000 at a missions conference (Student Global Impact) and were married in 2003.
Jeremy served on the Bible faculty of Northland International University for five years (2004-2009) before joining EMU and moving to Cambodia in May 2011. The Farmers spent time studying the Khmer language and culture, as well as becoming increasingly involved with the Crowleys and Kanes in training national pastors in Ratanakiri province. In 2016 they moved to Stung Treng to help the Cambodian-Laotian people establish Laotian churches in the province of Stung Treng. In addition to Khmer, they are now learning the Laotian language.
Jeremy and Bonnie Ruth have eight children: Abi, Isa, Gloria, Eden, Judson, Salem, Henry, and Elisha.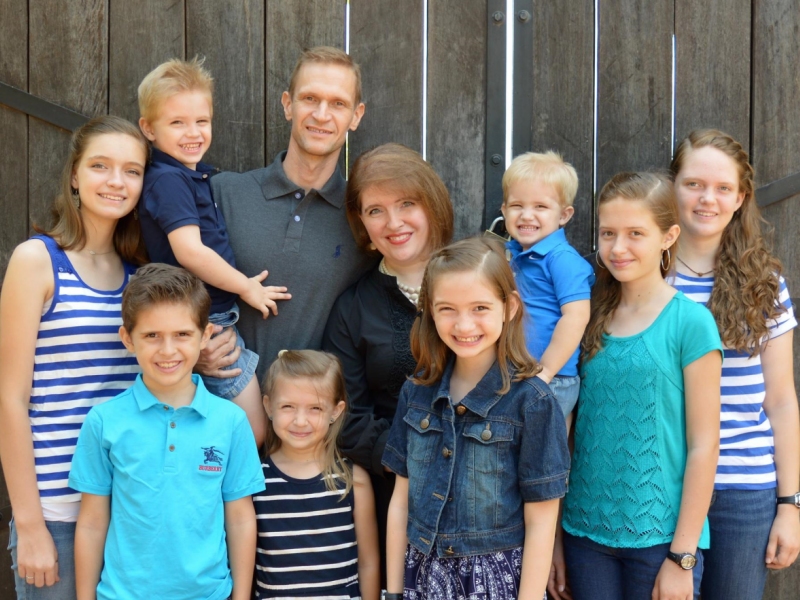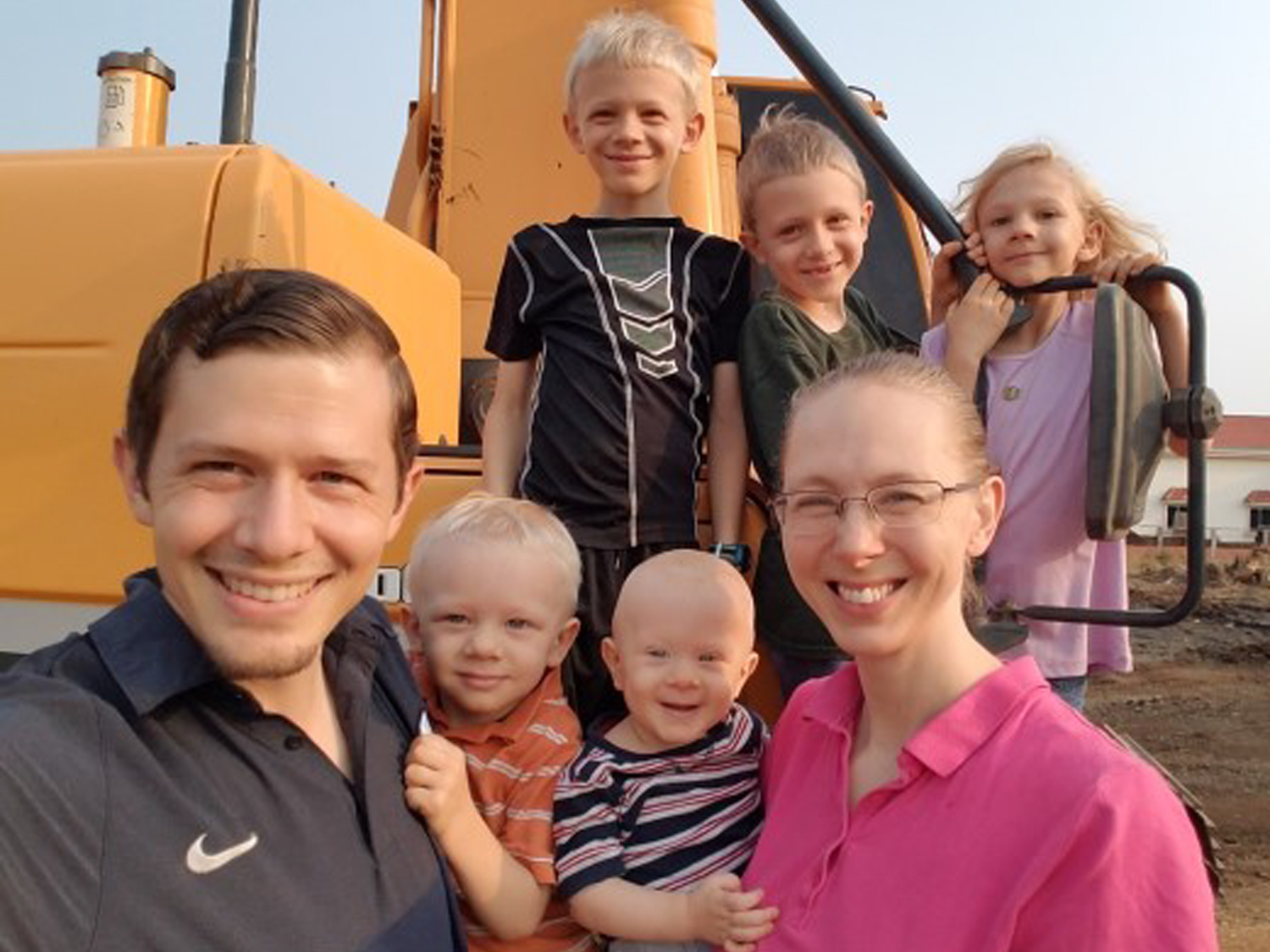 Matt & Becky Hancock
The Hancocks were both raised in Christian homes. While Matt was growing up, his father was an employee of Bob Jones University, and the family were members of Trinity Bible Church of Greer, South Carolina. Becky's father is currently a pastor in Pennsylvania, though the family has ministered in several states in the upper-mid-west as well.
Matt and Becky met at a weekly prayer meeting while students at BJU. Both completed their undergrad and graduate degrees at Bob Jones University and Seminary. Matt got his B.A in Missions and M.A. in Pastoral Studies, and Becky completed her B.A. in Humanities and M.A. in Biblical Counseling. During her high school and college career, Becky took short-term mission trips to small churches in the USA and overseas to Singapore, Hungary, and China. Since the age of nine, she has had a burden for missions. In 2008 Matt did a missions internship in Cambodia. From that time his desire to reach the Cambodian people with the Gospel has grown. They joined EMU as missionaries in 2013, and in 2014 they moved to Phnom Penh, Cambodia, to begin their Khmer language training. In August of 2016, they moved to Kampong Cham, the capital city of Kampong Cham Province in eastern Cambodia, where they helped with a church plant with two other missionary families. After returning to Cambodia in 2019, after their first furlough, Matt and Becky moved to Ou Reang Ov to begin a new church plant.
The Hancocks' personal ministry website is openingtheireyes.com
Matt and Becky have five children: Jonathan, Jedidiah, Hope, Hans, and Ethan.
Brooke Illsley
Brooke is currently serving with Jeremy and Bonnie Ruth Farmer in Stung Treng, Cambodia. She assists the family with the homeschooling of their children. She also offers advice and help to EMU's other missionaries in Cambodia who have school age children concerning curriculum and resources. In the fall of 2019, Brooke did intensive Khmer language study (the primary language spoken in Cambodia) so that she can also minister in the community to the Khmer and among the Lao, who are the Farmers' focused people group. Brooke also plans to network with others in the States who are interested in using their teaching skills on a foreign field to assist a missionary family with the education of their children.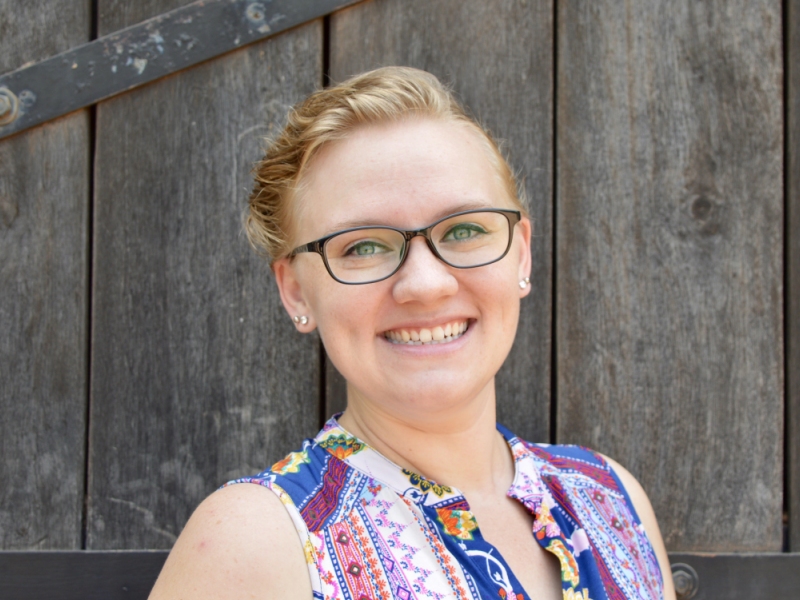 Josh & Amy Jensen
Josh Jensen is the son of Ken and Joan Jensen (and grandson of George Jensen), so he has been connected with EMU through his family for his whole life. He earned a B.A. in English and an M.A. in Bible Translation from Bob Jones University, and he completed his Ph.D. in Linguistics from The University of Texas at Arlington in the spring of 2013. Amy grew up in New Jersey, where her dad was a pastor; when she was in high school, her dad answered a call to a church in York, Pennsylvania. Amy earned her undergraduate degree in Music Education, her master's degree in Bible, and her doctorate of education in Curriculum and Instruction, all from Bob Jones University.
In the summer of 2002, Josh went on a survey trip to Cambodia with Jeremy Farmer and Brian Kane to visit the Crowleys. That trip led to a desire to go to Cambodia for long-term ministry. In the spring of 2006, Joshua went back for three months to do linguistic fieldwork with the Jarai people, a minority group in the northeast corner of the country.
 Josh and Amy first moved to Cambodia in July, 2014. After a year in Phnom Penh and another year in Ban Lung, the capital of Ratanakiri Province, they now live in Oyadao, a town near several Jarai villages in the province of Ratanakiri. The focus of their ministry is translation of the Bible into the Jarai dialect of northeast Cambodia, and equipping church leaders through teaching and discipleship.
The Jensens have five children: Rebecca, Isaiah, Anna, Clara, and Ezra.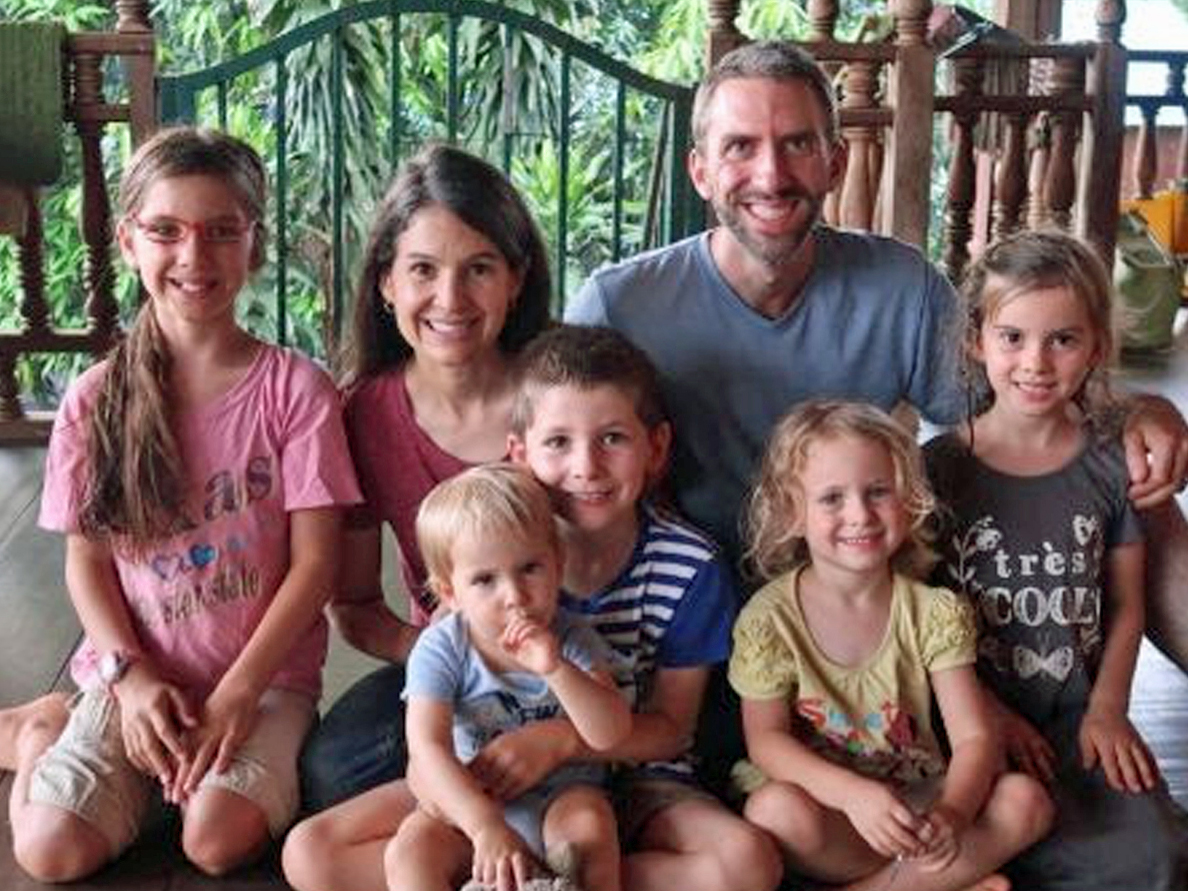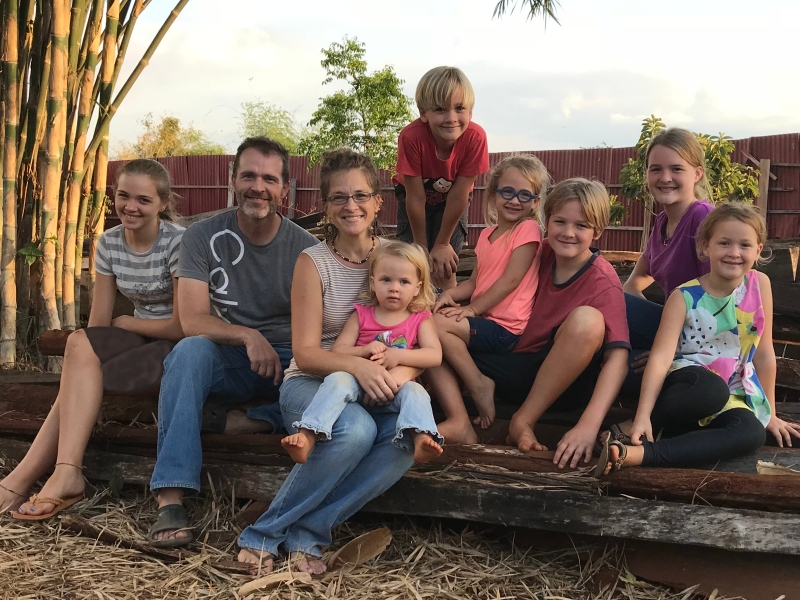 Brian & Lydia Kane
Brian Kane was born and raised on the campus of Bob Jones University where his parents were on staff. He earned an undergraduate degree in Bible, followed by a Master of Divinity degree. Lydia grew up in the Philippines where her parents were missionaries. She attended BJU, where she met Brian, and graduated with a Bachelor of Science degree in Biology and a Master's degree in Counseling. Brian and Lydia were married in 2001.
In the summer of 2002, Brian, along with Jeremy Farmer and Josh Jensen, visited the Crowley family in Ban Lung, Cambodia. Though the Kanes had long had a burden for missionary service, this survey trip turned Brian's heart to the people of Cambodia. The following year the Kanes were accepted into EMU as missionaries to Cambodia.
The Kanes moved to Cambodia in 2007. After language study in Phnom Penh, they began serving the Krung church leaders in the Ratanakiri province primarily through Bible teaching and discipleship. Brian is also assisting with the Krung Bible translation.
The Kanes have seven children: Mia, Sophia, Hugh, Jackson, Julia, Brianna, and Natalia.